Happy Herbivore Holidays & Gatherings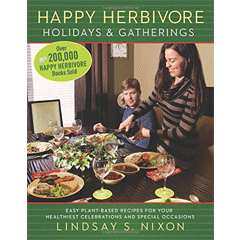 By Lindsay S. Nixon
Review By Melanie Powers
Bestselling vegan author Lindsay Nixon has done it again with her 5th cookbook in her Happy Herbivore series.  In the latest book "Happy Herbivore Holidays & Gatherings", Lindsay makes it super easy and delicious to cook for the holidays and special occasions.  This book is different in that it is divided up by holidays and special events;  Thanksgiving, Christmas, New Years, Appetizer Parties, Romantic Occasions, Brunch, Breakfast in Bed, Easter & Passover, Picnics, Barbeques & Outdoor Events, Kid Approved Parties and Large Mixed Crowd Entertaining Parties.  Now I love a "pretty" cookbook and this one gets top marks for that.  Beautiful colorful pages and lots of pictures!  Including more than 130 recipes this book is just wonderful for finding the perfect meal for any special occasion.  As a mom to two young girls I just love her "Kid Approved Parties" section.  A must try is Homemade Spaghetti –Ohs on page 147, the "Carrot" Hot Dogs on page 148 and the Banana Cake Pops on page 160.   These are so simple, so fun and so healthy, compared to what is normally served at parties for children!  The one thing that I really like about this book is that at the back she provides extra menu plans for all of the occasions in this book plus a few more holidays from all of her other cookbooks to date.  She lists the recipe, the page and the book it can be found in.  So if you're a Happy Herbivore fan like I am and have her other cookbooks this section is just wonderful!   This book covers it all.  From appetizers, main dishes, side dishes, desserts and beverages, she does all the meal planning and recipe creation for you!  I think this book is my fave to date out of all of them!
Also be sure to try out our featured recipe below for "Dark Chocolate Truffles" on page 93 in the "Romantic Occasions" chapter.
Dark Chocolate Truffles
Makes 10
These good-for-you truffles are only 39 calories a pop! Make them for your sweetheart.
1 c cooked white beans (see note)
1 tbsp smooth peanut butter
1 tbsp pure maple syrup, plus more to taste
2 tbsp unsweetened cocoa
Combine all ingredients in food processor and allow motor to run. Stop to scrape the sides as necessary, until you have a smooth and homogenous mixture.
Taste, adding another 1 tbsp maple syrup for a sweeter chocolate (you don't want it to get too wet though). The "batter" should be thick and pliable.
Pick off 10 pieces and roll into bouncy bite-size balls.
Chef's Notes:
Any white beans, such as navy, cannellini, or butter beans, will work in this recipe. If you want to get all fancy pants, roll crushed vegan chocolate chips or nut pieces into the balls.
Per truffle: 39 calories, 1g fat, 6.2g carbohydrates, 1.8g fiber, 1.4g sugars, 2g protein