Plant Powered Families Review & Giveaway!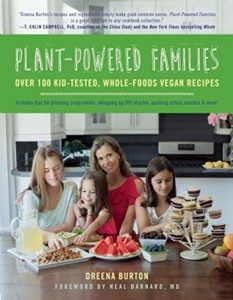 Review By Melanie Powers
Dreena Burton's newest book Plant Powered Families is a fantastic collection of amazing vegan recipes that the whole family will love.  The one thing I really appreciate about this book is that it is geared to families with children.  There is not an abundance of vegan cookbooks on the market that are based exclusively on creating recipes that are appealing to adults & children alike, as well as tackling the issues associated with feeding vegan children…or as Dreena refers to them as "weegans".  The last section of the book titled "Plant Powered Challenges and Solutions" covers picky eaters, school and lunchbox solutions, hosting kids parties and provides some sample meal plans.   This book features over 100 whole food vegan recipes that contain no refined white flour or refined sugar and have nut-free variations.   My girls absolutely love her Mac-Nificent (page 134), except we use the nut-free variation because both my children have tree nut and peanut allergies.  The Home Fries (page 152) are the best home fries I've made hands down and her Shipshape Joes (page 151) are delicious!  The combination of flavors she uses are so delicious!  And make sure you make her Pinksicles in her Frozen Treats section. This book truly creates recipes that kids will love and are easy to prepare for parents that are short on time…isn't that all of us?!  For more information about Dreena, visit her website & blog at http://plantpoweredkitchen.com.
Click here to buy Plant Powered Families now.
VegFamily is also GIVING AWAY A COPY OF PLANT POWERED FAMILIES to one lucky reader!  To enter, visit our Facebook page and leave a comment on the pinned post at the top of the page telling us what your fave summertime vegan dish is.  Contest closes on August 30th and one name will be chosen at random.  Contest open to residents of the USA & Canada only.
And because its summer, we're sharing two wonderful recipes perfect for this time of year.  Sunflower Artichoke Burgers and Fugdesicles.   Enjoy!
Artichoke Sunflower Burgers
I made these and was surprised by how much my family loved them. Even our daughter, who proclaims that she "does not like artichokes," was asking for seconds. If you have artichoke lovers in your house, you may want to double the batch!
Makes 5 patties
2 cups artichoke hearts (see note)
1 ½ loosely packed cups cooked and cooled brown rice or potatoes (see note)
¼ cup nutritional yeast
¼ cup sunflower seeds
¼ loosely packed cup fresh Italian parsley (see note)
1 tablespoon mild miso (ex: chickpea or brown rice)
1 teaspoon Dijon mustard
½ rounded teaspoon sea salt
1 medium clove garlic (see note)
Freshly ground black pepper to taste (optional)
1 tablespoon red wine vinegar
1 cup rolled oats
In a food processor, add and the artichoke hearts, rice, nutritional yeast, sunflower seeds, parsley, miso, Dijon mustard, sea salt, garlic, black pepper, and vinegar and puree. Once the mixture is coming together and a little sticky, add the oats and pulse through several times. Refrigerate for an hour if possible (it will make it easier to shape the patties).
After chilling, take out scoops of the mixture and form burgers in your hands. I scoop generously with an ice cream scoop, roughly 1/3- ½ cup for each.
To cook, heat a nonstick skillet over medium heat. Cook the patties for 5–7 minutes on the first side, and then another 3–5 minutes on the second side until a little golden. Serve with the fixings of your choice.
Artichokes Note: I use frozen artichokes from Trader Joe's. I find the flavor and texture much better than canned, and they are more affordable as well. If using frozen, just allow the artichokes to thaw before pureeing.
Potato Note: Instead of leftover rice, you can use prebaked, leftover red or Yukon gold potatoes—but the technique is a little different than if you're making the recipe with rice. Potatoes can become sticky and glutinous when pureed in a food processor. So, if using potatoes, first peel and roughly cube or chop 1 1/2 –1 ¾ cups. Then, follow the recipe directions but add the potatoes last, after pureeing in the oats. Simply pulse the potatoes until they are worked through the mixture and you can take a small amount and form into a ball in your hand. Do not overprocess.
Garlic Note: I'm conservative with the garlic for the kiddos, but you can use more if you like.
Fresh Herbs Note: Fresh parsley adds a nice flavor element to these burgers. If you don't have it, you  can substitute fresh basil. I wouldn't substitute many other herbs, or use dried, though.
Fudgesicles
Makes 5–6
Fudgesicles were one of my favorite treats as a kid. Now, I make a much healthier version for my own kiddos, and they love them just as much!
1/3 cup macadamia nut butter or raw cashew butter
1/4 cup coconut sugar
3 tablespoons cocoa powder
1/8 teaspoon sea salt
1/2 cup nondairy milk
1/2 teaspoon pure vanilla extract
1 1/2 cups frozen banana slices
In a blender, puree the macadamia nut butter, coconut sugar, cocoa powder, sea salt, milk, and vanilla extract until smooth. Add the bananas and puree again. You will need to scrape down the blender a few times while pureeing. Once the mixture is smooth and liquid, pour into ice pop molds and freeze until set.